We have options for vegetarians and vegans! You can still build the booty you've always wanted eating a plant based diet. Here's a wicked vegetarian meal, and also let's add in some tips for our vegan and vegetarians.
This meal is super easy and fun to make!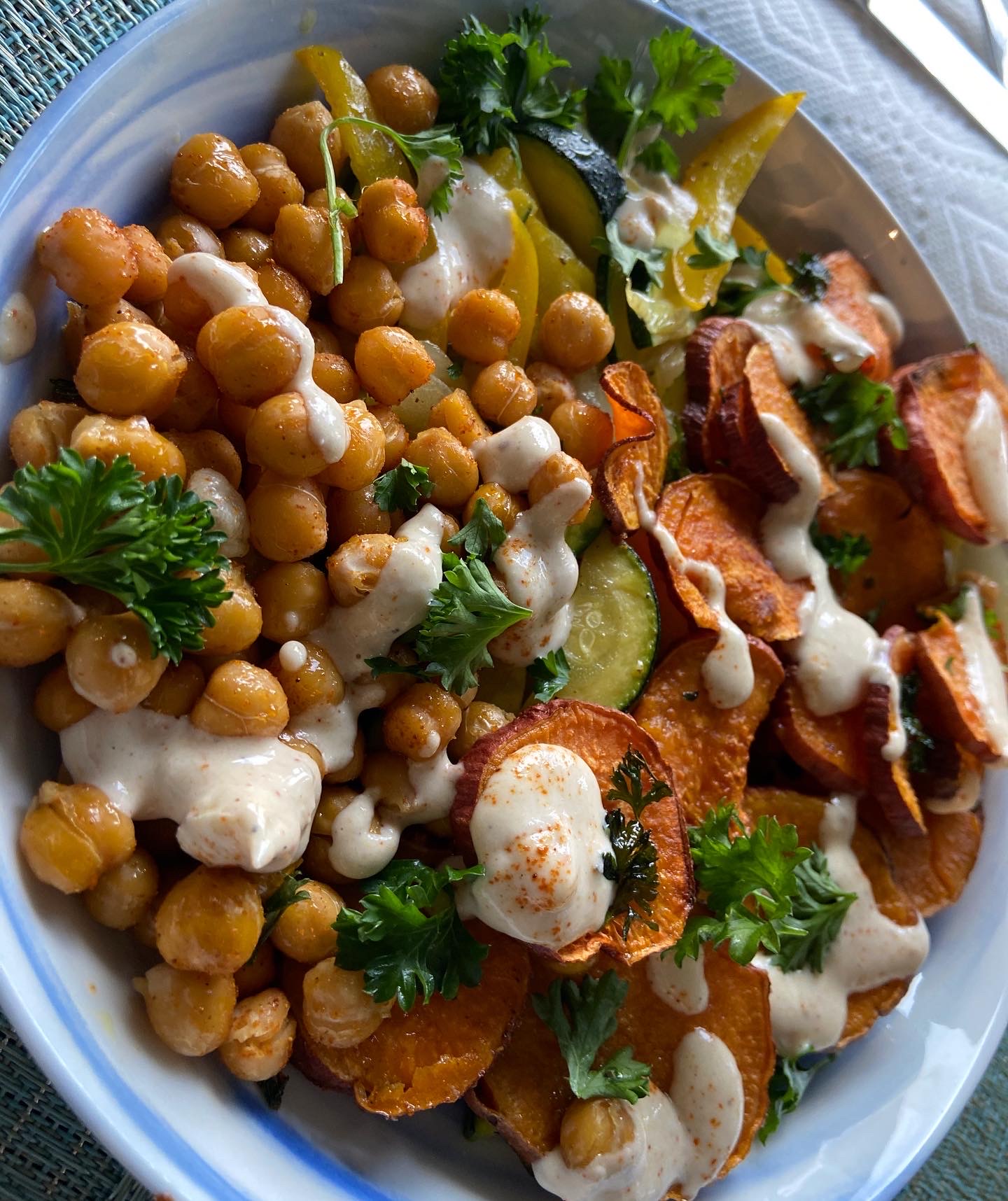 Ingredient list:
Olive oil. salt. pepper. cayenne
Sweet potatoes
Chickpeas
Parsley
Veggies
Garlic
Tahini
Lemon
Start by cutting up veggies any ones you like for the stir fry then cut up sweet potatoes. I love the organic chickpeas. Drain and rinse the chickpeas and spread them on a pan add olive oil salt pepper cayenne and add the sweet potatoes to that, garnish with parsley. In the oven for 30min 400.
While the chickpeas and sweet potato are in the oven, let's get that tahini drizzle ready.  A blender is needed, we're going to add one big tbsp of tahini, one tbsp of water to blend, half a lemon squeezed, 1 garlic clove salt. Blend and taste. It shouldn't taste nutty you definitely want the lemon and garlic to come through. Consistency should be fluid, thin enough to drizzle but definitely not watery.
Once the tahini is done you can sprinkle a touch of cayenne seasoning on top and garnish with parsley. Now we're going to get your stir fry going. I like to start with some olive oil and onions then I add in all different kinds of veggies. For this one in particular I added zucchini, yellow peppers and onions. Just basic salt and pepper. There's a lot of flavouring in the tahini drizzle so I kept the veggies pretty basic.
Once the veggies are done add them to the plate, pile the chickpeas and sweet potatoes on top and end off with that yummy tahini drizzle.
It's so yummy and nutritious.  Vegans and vegetarians can get a good amount of aminos and protein from legumes and nuts. If it's a Booty Building Box night you can always add in some tofu or tempeh for more protein. This would make a perfect pre workout meal for ecto booties or a post workout meal for endo booties!
I hope you enjoy it! #Feethebooty 🍑
Lots of love,
Jenna xoxo